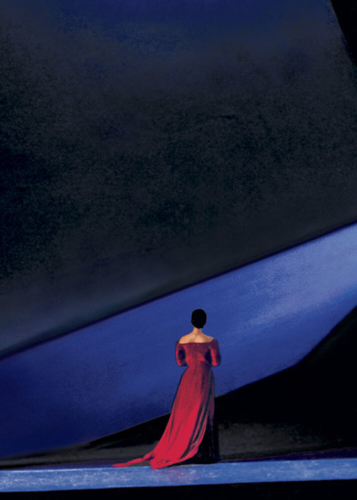 In 2000 I had an opportunity that is rare and unique in life.
On the occasion of the event celebrating the Centennial
from Giuseppe Verdi's death that was taking place under
Maestro Riccardo Muti's passionate direction, I could
photograph seven productions of Giuseppe Verdi's operas
during the actual performances with all the audience
attending. It's a time when the singers' commitment and
general pathos are at their highest and it came about at the
most famous of theaters: first at Alla Scala and then at The
Regio Theatre in Parma.From 2000 to 2001 the operas
most loved by people were staged at Alla Scala: La Traviata,
Rigoletto, Un ballo in maschera, Otello, Il Trovatore, Macbeth,
while there were two productions of Falstaff, the first at Alla
Scala in Milan, the second in Busseto, at the Giuseppe Verdi
Theatre. The later was represented according to that
extraordinary version, original and exclusive, wanted by Verdi
himself, with the scenes and costumes as specially created
by him.In 2007 on the occasion of Verdi's Festival " Parma e
le terre di Verdi "I was approached by Parma Regio Theatre
to realize a project that consisted of taking photographs of the
operas put on stage every year to exhibit them at The Portici
del Grano (The Council Palace). The operas I photographed
were: Otello, La Traviata, Rigoletto, Il Trovatore and Nabucco.